From Little Things
RUMMIN PRODUCTIONS presents
From Little Things - Short films, Big Stories from lutruwita / Tasmania
A wonderful collection of award winning short films about extraordinary Tasmanians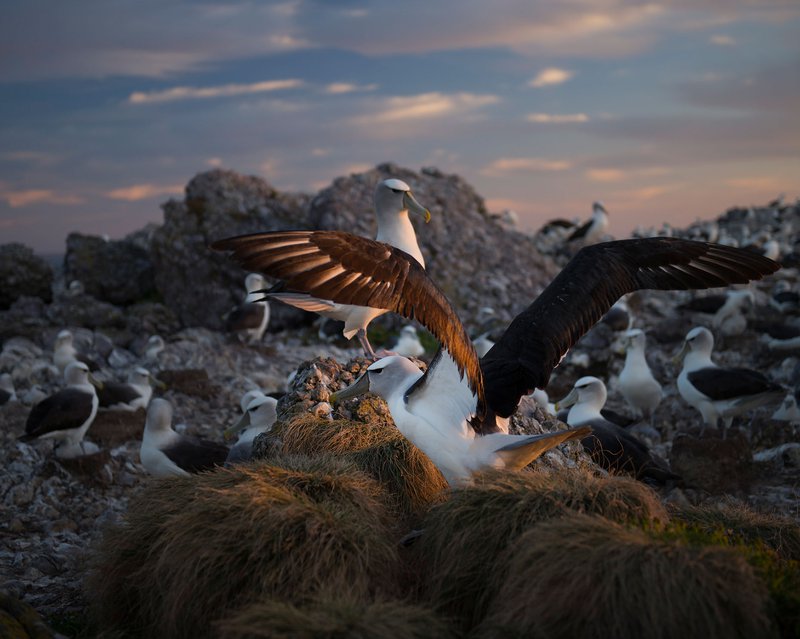 namanu rruni | Albatross Island (14:19) Albatross Island is a magical place. 18 hectares of conglomerate rock off the northwestern tip of Tasmania is home to 5200 breeding pairs of Shy Albatross. Marine biologist Dr Rachael Aldermen, who has been visiting the island for a decade, oversees a long-term monitoring program. Filmed over 3 years, namanu rruni | Albatross Island provides the very rare opportunity to see this unique Island and the compelling scientific work being undertaken there. 
Semi-finalist International Wildlife Film festival, Montana April 2019. Official Selection Winter Film Festival, Treviso Italy March 2019. Winner Best Short film New York Wild Film Festival, February 2019. Finalist Banff Mountain film festival 2018. Winner best conservation film World Conservation Festival New York 2018. Selected into the Environmental Film festival, Melbourne Nov 2018. Official Selection Bruny Island Bird Festival 2018. Winner best film and best story at Stories in September festival 2018.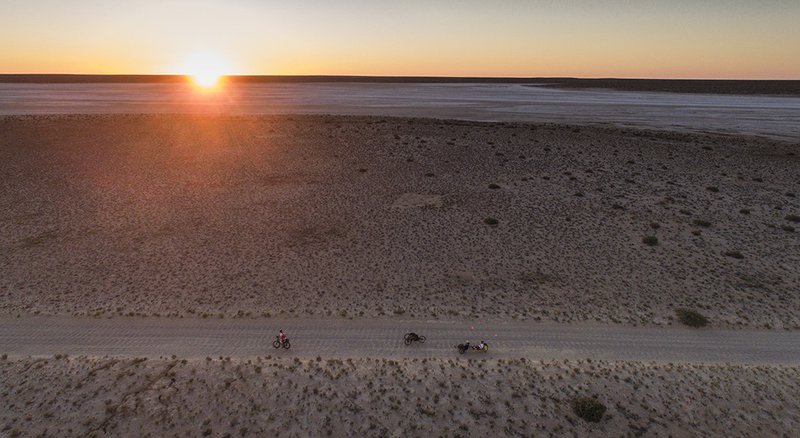 Lowest to Highest (27:37) An adventurous road trip about five friends with disabilities who undertake a human-powered 2,150km ride from Lake Eyre to the summit of Mount Kosciuszko. Through the boundless landscape of Australia, five friends attempt to be the first to cycle from the continent's lowest point, Kati Thanda - Lake Eyre, a vast salt lake in the desert at 15 metres below sea level, to the highest point, the snow-capped summit of Mount Kosciuszko. The 2150km journey would be hard enough for anyone but Duncan is blind, Walter can't breathe, Daniel can't walk, Conrad can't bend, and half of Paul's body doesn't work. 
Official Selection Bike Days International Film Festival 2019. Winner Spirit of Adventure (Bronze Award) & Judges Special mention Sheffield Adventure Film Festival 2019. Official Selection Flagstaff Mountain Film Festival 2019. Official Selection Gorniskega Film Festival - Slovenia 2019. Official Selection Adventure Travel Film Festival, Perth WA & Bright VIC 2018. Winner audience award Ciclismo Classico Bike Travel Film festival 2018.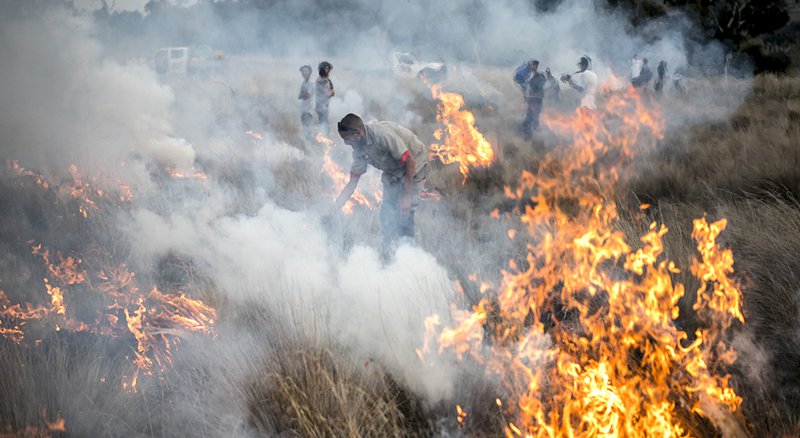 Returning patrula / fire (11:15) Traditional Aboriginal patch burning. The first time Aboriginal people have been back on this country in the Northern Midlands of Tasmania to undertake the practice of burning since the early period of invasion. This is the result of true leadership from both the landowner and members of the Aboriginal and non-Aboriginal community. 
Official Selection Nayri Niara Good Spirit Festival 2019. Official Selection Stories in September festival 2018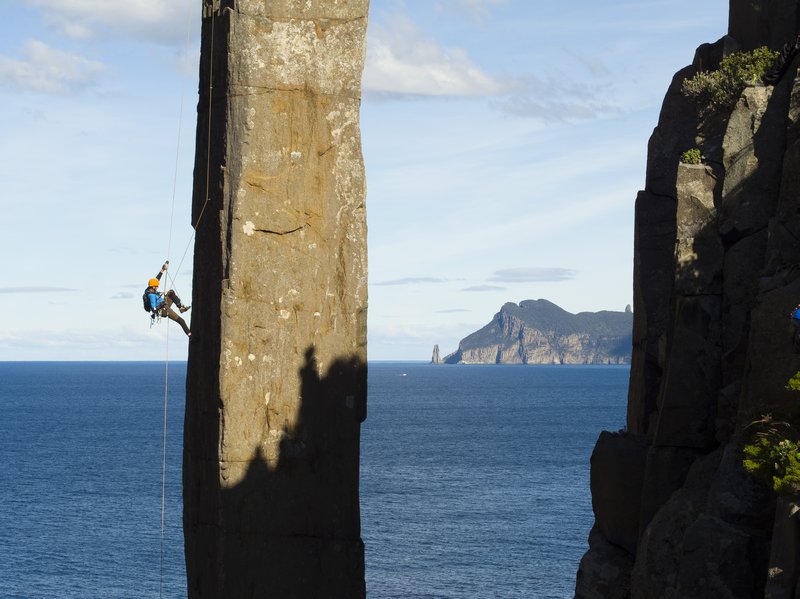 Doing it Scared (11:44) In 1998 Paul Pritchard was abseiling in to climb the Totem Pole in Tasmania when he dislodged a rock with his rope that hit him on the head, leaving him with a severe head injury that he was lucky to survive. The aftermath of the accident left him with hemiplegia, which means he has little feeling or movement in the right side of this body. Despite this disability, Paul's continued to live a life filled with adventure. Eighteen years later Paul returns to the Totem Pole to find out if he has recovered enough to finish the climb. 
Finalist Banff Mountain Film, Selected into Banff Mountain film festival World Tour, Kendal Tour of China, Winner best short film BOFA, Winner best short film TEFF, Winner best short film Fort William Mountain Film Festival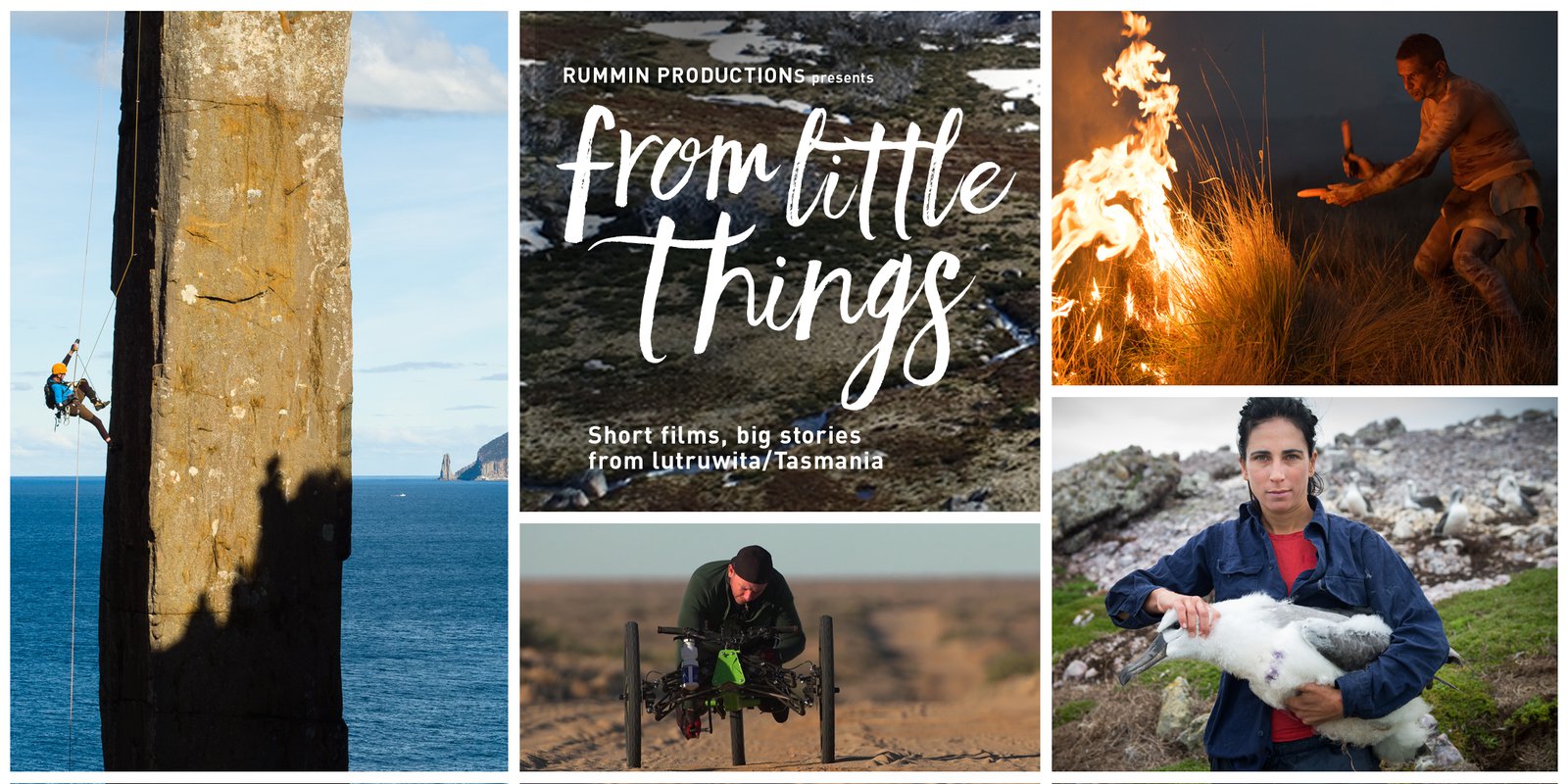 Here in lutruwita / Tasmania one of the things we get asked a lot when we launch a new film is, when can we see it? Which is fantastic but also sometimes really hard because we often can't tell someone what they most want to hear. As independent filmmakers 9/10 our hands are tied on a release; we're waiting for film festival selections and then waiting for their screening embargoes to be lifted, waiting to hear if one of the networks want to license a broadcast - sometimes it feels we're just waiting an eternity for the stars to align before we can share our films.
Truth is, we spend a lot of time creating films about stories we trust our audiences will love as much as we do. And more than anything, we want people to see them, and feel uplifted by them. So a little while ago, we decided to do something to answer that burning question of 'when can we see this film', and came up with the idea to put Rummin on the road.  We decided that the way to get around some of those restrictions was, we'd just have to get out and screen the films ourselves – analogue style. 
Starting in mid- September we are launching four of our films with a Q&A at the CMAX cinema in Devonport, and from there we'll be traveling around the Island, screening our films to the people we love the most, who care about our Island the most, and who really want to see their stories reflected back to them on screen – the most.
We're starting small, but bit-by-bit we aim to get out to many of the more remote places on the Island that often get overlooked, to gather together and share local stories, and who knows, we may even uncover a few new stories to tell.
Right now we're booking in our venues, so if you are keen to host an event in your town please get in touch. It's just the beginning, but from little things….. well, we'll wait and see, but we are hopeful that next time someone asks 'when can we see this film', we can say, pop kettle on! we're on our way.